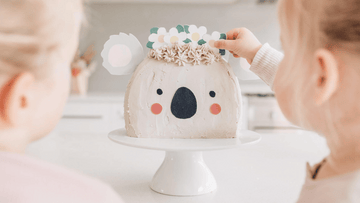 Our wish is to inspire first timers bakers to get their Bake & Believe on with their kids, but without all the stress and artificial nasties.

Homemade cakes should be easy, naturally delicious & fun!
Welcome to Bake Believe, where we are passionate about making homemade cakes, cupcakes and cookies easy and enjoyable for everyone, even if you can't bake!
Founded in 2018, our award-winning cake, cupcake, and cookie kits are designed to help rookie bakers create beautiful, creative treats with their little ones with ease.
Our cake, cupcake and cookie kits offer innovative designs and foolproof instructions, and we are proud to say that we've helped thousands of families create magical memories and the start of a new birthday tradition.
We believe that baking should be a fun, stress-free experience for everyone, and our kits are designed to make that possible, even for beginners. We might be small but we are mighty, always putting the consumer at the heart of the business. We are here to help!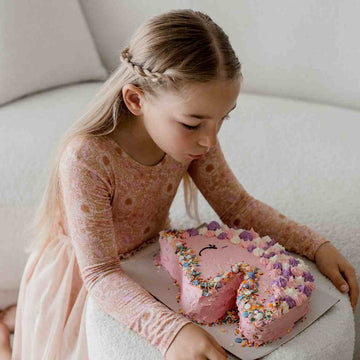 We are proudly...
Aussie owned

We love supporting local! We manufacture all our products in Australia from local and imported ingredients.

Award-winning

We are the lucky winners of the Food & Beverage Award for AusMumpreneur in 2022, and the Best Party Product Award for What's On For Kids in 2021.

100% natural ingredients

We are proud to offer 100% natural ingredients in all our kits, with no artificial colours, flavours or preservatives. Vegan friendly, gluten-free and offer allergy free alternatives avaiable. We use edible images as a fun birthday novelty, or simply peel them off before serving to keep the cake and cupcakes natural.
Like many of you, I have many wonderful memories of my parents baking incredible cakes...

But in today's mayhem of juggling work and family life, attempts to recreate these masterpieces for our own children can be stressful, as we're time poor and often not confident bakers.
At Bake Believe, each cake kit is designed to be simple, yet fun. They can be made by yourself, or together, with little people in the kitchen. From birthday cakes to cupcake kits, and plenty more fun bakes to come. All the ingredients are natural and clean (simply peel off the edible images before serving - or enjoy as is).
Hi, I'm Fiona!
Mum to this little man, who's now a big boy, and two cheeky toddlers.
This picture was taken the day a mighty idea was born, Bake Believe!
April 2017, fresh into motherhood, a genuine disaster unfolded in the kitchen in my attempt to make a magical cake for my son's first birthday. Flour everywhere, sinking cake, kids complaining – divorce worthy, almost!
After throwing myself into baking, and spending many hours in the kitchen, in and around full-time work and family life, Bake Believe was born – delivering deliciously simple cake kits for life's special celebrations!
My hope is to inspire busy parents and first timers to get their Bake & Believe on without all the stress and guilt. To experience the joy and pride of seeing their little ones eyes light up, knowing they made every crumb of it!