News
Creating memories with Our Elf on the Shelf Cookie Kit
by Zoe Pester on Nov 15, 2023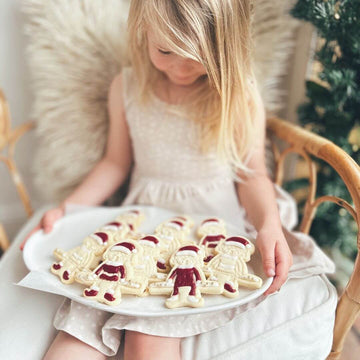 There's something truly magical about Christmas traditions, especially when they sprinkle a bit of enchantment into our children's holiday season. For maximum fun this year, combine the excitement of the 'Elf on the Shelf', with the warmth of a family baking session, and the pride of creating something from scratch. That's precisely the kind of festive cheer our Elf Cookie Kit brings to your kitchen – it's simply tree-mendous!
Our elf-inspired cookie kit is more than just a baking activity; it's a new Christmas tradition that's as delightful to make as it is to eat. Made for little and big bakers, it's a piece of cake to use! The kit is a treasure chest of baking joy, equipped with everything you need to craft your edible elf masterpiece. 
Bring your loved ones onboard this delightful baking adventure
Our DIY Elf Cookie Kit comes with 100% natural ingredients, so you're all set for a baking adventure that's sure to be the icing on your Christmas cake. And don't worry, if your baking skills feel a bit 'elf-sized', our step-by-step guide will help you rise to the occasion. Plus, we offer vegan, allergen-friendly and gluten-free alternatives, ensuring that everyone can join in on the reindeer games.
Every box also unfolds more fun with two colour-in Christmas chef's hats, keeping the little ones entertained while their cookie creations are turning golden in the oven. It's an excellent way for kids to express their creativity twice over – first through art and then through baking. 
Our Elf on the Shelf Kit also offers a beautiful opportunity to give something personal and heartfelt. Whether it's for school friends or simply to enjoy within your own family, nothing says 'Happy Holidays' quite like a batch of homemade cookies, especially those shaped like the beloved Christmas elves. 
As you roll out the dough and decorate your elves with merry colours, you're not just making cookies; you're crafting memories. You're building a tradition that your family will look forward to year after year. So, preheat your ovens and prepare for some elfish mischief, as your kitchen turns into Santa's workshop where the magic of baking brings joy to all – no silent nights in this kitchen!
Remember, magic isn't just in the stories we tell during Christmas; it's also in the joy of baking together. It's in the smiles, the laughter, and the sweet aroma of cookies that fills your home. With our Elf Cookie Kit, you're all set to Bake & Believe in the wonders of Christmas, one cookie at a time.