News
Making Memories: Start A Christmas Baking Tradition
by Zoe Pester on Nov 03, 2023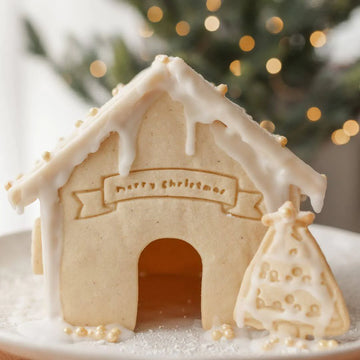 The festive season is all about making memories with your family, and there are no better memories than those special family traditions, from tinsel-wrapped trees to carolling capers.
This year, why not whisk up a new tradition that's both fun and delicious? Our DIY Baking Kits are the perfect way to start a family baking tradition, even if you've never baked before (or your past baking attempts have been a bit crumby). With 100% natural ingredients and everything you need, you can bake with the kiddos without ending up with a kitchen that looks like Santa's workshop after a snowstorm.
Gingerbread Houses
There is nothing more classic to bake at Christmas than a Gingerbread House, but it can be overwhelming to know where to even start. If the mere thought gives you ginger-dread, we've got you.
Picture this: it's a sunlit December afternoon, and you're in the kitchen with the kiddos. Laid out on the counter is our Gingerbread House Cookie Kit, tiny hands reaching, eyes twinkling brighter than the North Star. As the enticing scent of freshly baked cookies wafts around, you'll realise it's not just about creating delectable delights but crafting moments that stick (like icing on a cookie).
Our Gingerbread House DIY Cookie Kit is not just another baking set. Designed with both young bakers and their grown-ups in mind, this kit ensures that everyone, from tiny tots to grandparents, can join in the festive baking spree. From assembling the 3D house and roof tiles to adding intricate details with the window, wreath, and Merry Christmas sign, every step is filled with fun. 
And for those finicky taste buds, we've skipped the ginger. Want to spice things up a bit? Our recipe card's got you covered. For those who wish to go the extra mile, you can even add your own sweets.
Christmas Cookies
Not ready to tackle the house or looking for a few extra activites? Let's not forget the merry band of gingerbread friends and elf cookies that bring their own charm to the festive table. Crafted with the same dedication to natural ingredients, these delightful shapes offer additional avenues for family baking sessions.
Natural and Allergen Friendly
We're mixing up a recipe for natural, inclusive, and sustainable baking. No artificial nasties, just pure, unadulterated yum. And for families that march to the beat of a different mixer, we offer gluten-free, vegan, and allergy-friendly versions, because Christmas joy is best when shared by all.
A Tradition Worth Keeping
Christmas traditions are like cookies: each unique, but all equally delightful. Baking brings warmth, love, and a sprinkle of fun. So, as you knead, roll, and adorn, remember you're baking more than just cookies; you're crafting memories that'll last long after the last crumb has been devoured.
After all, Christmas magic isn't just in the air; it's in every bite you Bake & Believe.