News
Elevate Your Baking Game with Our Edible Images – The Perfect Finishing Touch 🎂📸
by Zoe Pester on Nov 03, 2023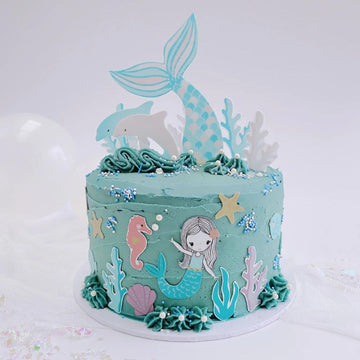 If you're a busy parent or rookie baker that wants to seriously impress your family and friends, you really can't go past our DIY Cake & Cupcake Kits. 
But sometimes, you want to make the cake yourself. Maybe you've got a family recipe you'd like to use or have had a special request from your little one for something a little out of the ordinary. Or maybe you don't even have time to bake (or even bake and freeze in advance) and just want to pick up a cake at the supermarket, hey no judgment here.
Whatever the reason, sometimes the cake part is sorted, but the decorating part is totally overwhelming. Look no further! Our Edible Images offer a game-changing solution that transforms you from a beginner to a pro decorator in no time.
Versatility at Its Best 🌟
Our Edible Images are the epitome of versatility. Whether you've baked a round cake, a number cake, or a dozen cupcakes, these edible images will turn a cake into a masterpiece. Simply use a craft knife or scissors to cut out the design and apply it to your treats. Voilà, you have a creation that looks perfectly imperfect, the way all homemade cakes and cupcakes should be.
We've got dozens of themes to choose from, but if you can't find the one you are looking for, we can create custom edible images to suit ANY theme you choose. 
For the Cake Maestros: Icing Sheets 🍰
If you're working with cakes, our edible images on icing sheets work just like stickers. Attached to a plastic backing, these sheets offer superior ink absorption, delivering richer, more vivid colours. Plus, their thickness and reduced transparency mean you can place them on your icing well in advance without worrying about them blending into the background.
Cupcake Enthusiasts, Meet Wafer Card 🧁
For cupcakes or anything you want to "stick up" like a topper, wafer card is your go-to option. Designed as an edible topper to turn your cakes and cupcakes into showstoppers. 
Whether you're an experienced baker or prefer store-bought treats, edible images offer an effortless way to elevate your creations. Perfect for cakes, cupcakes, and even cookies, these images cater to all your decorating needs. So skip the intricate icing work and simply apply these ready-made images.
Order your Edible Images at https://bakebelieve.com.au/collections/edible-images
Don't just bake it, make it unforgettable with our Edible Images. Get ready to wow your guests and taste buds alike! 🎉🍰