News
How to Plan a Safari or Jungle Themed Kids Birthday Party
by Zoe Pester on Aug 31, 2023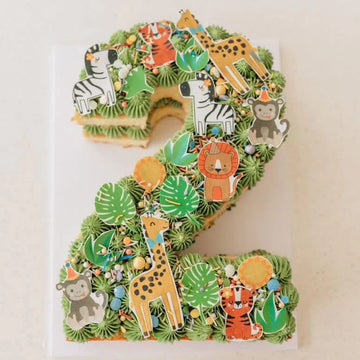 Does your little adventurer have a birthday coming up? Embark on a journey into the wild with a fun Safari or Jungle-themed party. Perfect for kids (or grown ups) of any age, from "Wild one" first birthdays to sundowners on the African savanna style soirees. From roaring lions 🦁 to slithering snakes 🐍, the animal kingdom comes to life with this fun party theme. 
Here's your step-by-step guide on how to host a safari or jungle party that will be the talk of the playground.
Step 1: Invitations
Start your adventure right by designing creative invitations that set the mood. Think treasure maps or animal footprints, stripes or spots as your design base. If you're sending electronically, Canva have a huge selection of templates to match this theme.
Step 2: The Cake 🎂
Lions and Tigers and Bears, oh my! Whether you choose an animal cake (for a cheeky little monkey perhaps?) or a cake with a whole menagerie, making your kids birthday cake from scratch is a feeling that can't be matched. But if you're a rookie baker (or just a busy mum or dad) it can be really daunting.
Our DIY Safari Cake & Cupcake Kits make it so simple, even for rookie bakers. You won't believe what you can achieve. 
With pre-measured ingredients that are 100% natural and a step-by-step guide, you'll whip up a masterpiece that's not just delicious but also thematic.
Everything you need is in the box including disposable baking pans, piping kits and edible decorations.
Plus there's no artificial nasties (just remove the edible images to keep it 100% natural) and allergy-friendly options are available too.
Step 3: Decorations
Transform your party space into a mini-jungle or safari escape. Keep it classy by balancing animal prints with live or faux greenery, and solid colours.
Balloon garlands are a quick and easy way to make an impressive backdrop and look fantastic on photos. You can even add one to your cake order and cross two things off your list in one go.
Step 4: Activities & Games
Keep your young explorers engaged with these games:
Safari Scavenger Hunt: Hide small animal toys or treasures around the garden and provide clues.
Pin the Tail on the Zebra: A jungle twist on a classic game.
Animal Charades: Kids can act out different animals for others to guess.
You can find even more suggestions for safari themed games here.
Step 5: Party Favours
Send your little adventurers home with something special.
Stickers or temporary tattoos:  Choose their favourite jungle animals.
Small toy animals: A keepsake from their jungle adventure.
A DIY cupcake: Entertainment and party favours in one are a win-win. Set up a cupcake decorating station with our jungle safari themed cupcake kit, and let your guests decorate and take home their very own cupcakes. 
A DIY cookie (coming soon): With our DIY cookie kits you can bake and decorate in advance a Safari themed cookie in their party favour bag. 
Step 6: Food & Snacks
Go beyond the cake with these treat ideas:
Fruit Skewers: For a healthy option, fruit skewers can be made to look like jungle vines.
Animal Sandwiches: Use cookie cutters to create animal-shaped sandwiches.
Jungle Juice: Green-coloured juice or lemonade for the thirsty explorers.
Step 7: Capture the Moments 📸
Set up a photo booth with props like explorer hats, binoculars, and cardboard animal cutouts. This will not only entertain the kids but also give parents perfect photo opportunities.
Step 8: Music & Sound
Last but not least, add background jungle or animal noises for that final, immersive touch.
With a Safari or Jungle-themed party, there are limitless possibilities for creativity and fun. With our Cake & Cupcake Kits designed for rookie bakers, you don't have to worry about the most crucial element - the cake! We hope this guide helps you in planning an unforgettable adventure for your little one.
Ready to bake up some fun? Check out our Jungle & Safari Kits at https://bakebelieve.com.au/collections/safari
So go ahead, bring the jungle to your backyard and watch your little adventurers roar with delight! 🦁🐵🦓