News
Spook Up Your Halloween with DIY Cake, Cupcake and Cookie Kits 🎃👻🏰
by Zoe Pester on Sep 21, 2023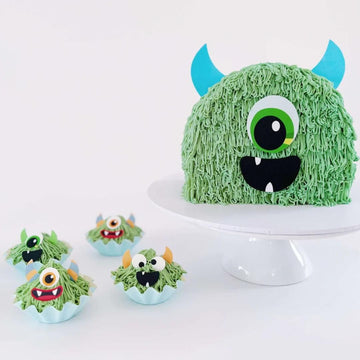 Halloween is that enchanting time of the year when we get to embrace our inner spook-meister and celebrate all things eerie and mystical. But why stop at costumes and decorations? This Halloween, elevate your festivities with our spook-tacular DIY Cake, Cupcake and Cookie Kits. From spooky castles to ghosts and pumpkins and fang-tacular monsters, we have the kits to help you bake up a storm (or a cauldron brew)!
Create a Wicked Castle Fit for a Witch 🏰
Step into a world of witches, goblins, and ghouls with our 3D Wicked Castle Cake Kit. This amazing cake not only tastes great but also doubles as a centerpiece for your Halloween spread. Perfect for any Wednesday Addams fans too.
Unleash the Monster Within 👹
Got a little monster at home? They'' adore our DIY Monster Cake or Cupcake Kit. With their Google eyes and funny faces, it's a monstrously fun activity that kids will love.
Wake the Dragon 🐉
Not all dragons are menacing; some are delicious! Our Dragon Cake Kit takes you to a realm of mystical creatures and lets you craft your own dragon—fire-breathing optional.
Halloween Cookies 👻
Our Pumpkin and Ghost Cookie Kits are not only delicious, but they are the perfect Halloween activity to share with your little ones. With our cookie cutter and stamp kits it's so easy to make a spooky Halloween treat.
What's in the kit?
Everything you need comes in the kit, perfect for first-time bakers and busy parents to create themselves, or together with little people (& big!) people in the kitchen.
The kits include;
Pre-measured,

100% natural dry ingredients (natural cake or cooie mix, pure icing sugar) 

Plant-based food colouring

Natural sprinkles

Disposable baking pan or cupcake holders

Decorator tools like disposable piping kit or stencil to help shape the cake.

Edible images to apply to the cake like stickers (icing sheet) and toppers (wafer card). Eat the images as a fun novelty or peel them off before serving to keep the cake and cupcakes 100% natural.

A step-by-step guide to creating your spooky masterpiece

Online support from the Bake Believers community on Facebook and YouTube tutorials
Why Choose Natural Ingredients? 🌿
When it comes to crafting Halloween treats, it's tempting to opt for flashy, artificial colours and additives. However, natural ingredients are not only healthier but also more inclusive. Some children are sensitive to artificial additives, and using natural alternatives ensures everyone can enjoy your spooky creations without worry.
Baking Activities for Halloween 🎃
Creating these spine-chilling cakes, cupcakes and cookies is a fantastic activity for kids and adults alike. Spend a day leading up to Halloween baking and decorating. You can even make it a friendly competition, awarding prizes for the scariest or most creative designs. Gifting a cookie to their classmates is also a fun way to share the magic of Halloween.
Time to Get Spooky 🕸️
Ready to have the spookiest Halloween party on the block? Our DIY Cake, Cupcakes and Cookie Kits are the perfect way to get everyone into the Halloween spirit.
Order your Halloween-themed Cake, Cupcake and Cookie Kits at https://bakebelieve.com.au/collections/spooky\
Bake your way into a hauntingly good time this Halloween! 🎃👻🦇